Calf Pro for Calves
Calf Pro is a unique liquid formulation containing Bovatec® (lasalocid)*, an early acting coccidiocide. Bovatec has been proven effective in controlling coccidiosis caused by E. bovis and E. zuernii in cattle. It acts early in the life cycle to protect against intestinal damage. Calf Pro is formulated with fat soluble vitamins, A, D3 & E, plus water soluble vitamins, B1, B6, B12, Biotin & Niacin to fortify the nutritional needs of non-ruminating young calves.
Calf Pro in the milk diet provides:
Coccidiosis Protection
Vitamin Fortification
Growth Enhancement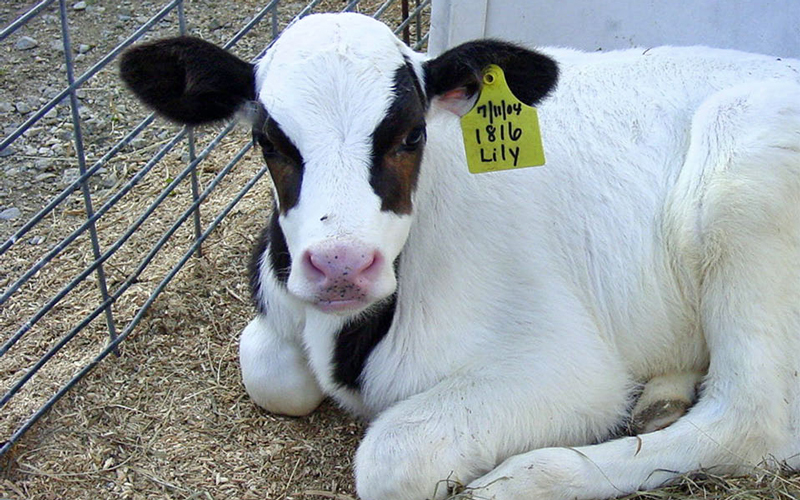 Calf Pro Features
Coccidiosis Protection From The First Feeding
Correct Medication Level For The Critical 4 To 5 Weeks After Birth
Excellent Vitamin Supplementation Levels
Complete Additive For Whole Milk Or Discard Milk Fed To Calves
Provides Anticoccidial Medication To Milk Replacers That Do Not Have A Coccidiocide
Easy To Administer
Good Mixability & Palatability
No Residues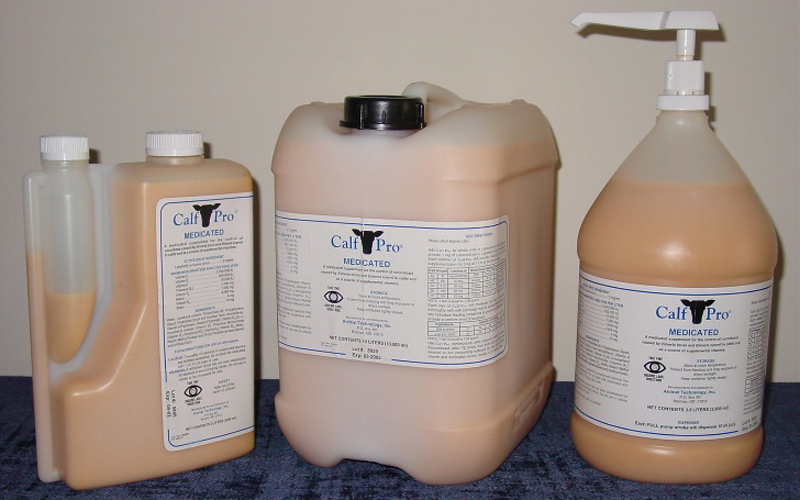 Packaging
Calf Pro is supplied in 3 container sizes:
2 liter twin top measuring bottle
3.8 liter jug with a 10 ml. spring loaded pump
10 liter bulk container
Use Directions
Add Calf Pro to whole milk or reconstituted milk replacer to provide 1 mg of lasalocid per 2.2 lbs. (1kg) of body weight. Each ml of Calf Pro will provide medication and vitamin supplementation for 5 kg or 11 lb. of calf body weight. (10 ml/110 lb. calf) Use Calf Pro continuously after colostrum feeding has been discontinued (day 2-3) and until calves are consuming dry feed with coccidia medication to get proper levels: usually not until 4 to 5 weeks of age.
Calf Weight
Lasalocid Required Per Day
Once Daily Feeding
Twice Daily Feeding
kg
Lbs.
Milk
Calf Pro
Milk
Calf Pro
30
66
30 mg.
3 liters
6 ml.
1.5 liters
3 ml.
40
88
40 mg.
4 liters
8 ml.
2.0 liters
4 ml.
50
110
50 mg.
5 liters
10 ml.
2.5 liters
5 ml.
Why Use Calf Pro®?
Whole milk does not contain any coccidia prevention medication or supplemental vitamins
Not all milk replacers contain a coccidiocide
Calf Pro provides the correct medication level for the critical 4 to 5 weeks after birth, before calf starter intake is sufficient to provide the required medication levels
Bovatec Intake (Mg) Should Equal Calf Weight (Kg)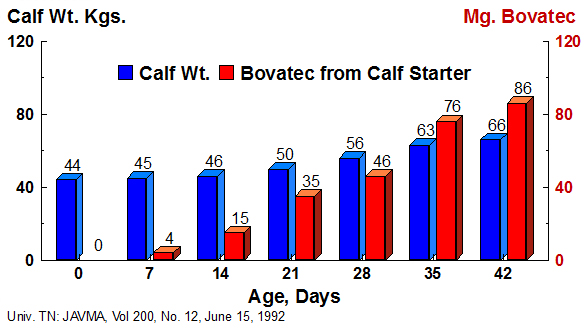 *Bovatec® is a registered trademark of Zoetis
Controls Sub-acute Coccidial Infections
Coccidiosis prevention - a healthy intestinal lining for greater nutrient absorption – controls sub-acute infections
Additional growth – increased calf starter intake
Healthier calves consuming more feed will allow earlier weaning
Additional Growth of Holstein Calves fed Calf Pro